A Skilled Auto Mechanic for Your Automotive Needs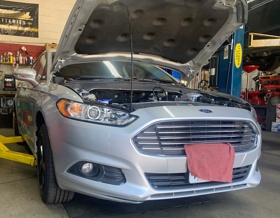 Rely on the professionals at Daniels Auto Center Repair to save you money on automotive repairs. We have several current specials that range from oil changes to transmission service. Visit our auto mechanic in La Puente, California, for maintenance and repairs that prolong the life of your car. Contact us today at (866) 283-9940 for more information.
Current Specials
• Free Oil Changes with $250.00 in Repairs
• Basic Oil Change includes Oil Filter and Multi-Grade Oil (Up to 5 Quarts)   —Synthetic Oils up to 5 Quarts: $55.00
• Check of Tire Pressure and All Fluids: $28.00
Engine Diagnostics—$45
• Free Diagnostics with Repairs

Axles—$280.00
• New with Parts and Labor with Both Sides

Brake Systems—$135.00 Per Axle
• Including Brake Pads (Ceramic) Cleaning and Adjustments, Parts, and Labor for Most Cars

Air Condition Recharge—$75.00
• Includes Parts and Labor with up to 3 Pounds of Freon for Vehicles 1995 and Older

Fuel Injection Service—$49.98
• Includes Parts and Labor

Transmission Service—Starting at $75.00 for Most Cars
• Includes Gasket, Filter, and Fluid

Basic Tune-Up—$85.00
• Includes Motor Oil and Filter, Spark Plugs, and Filter
• 10-Point Inspection (for 4-Cylinder Cars)

Clutch Service—Starting at $380.00
• Includes up to a One-Year Warranty with Brand New, Quality Parts

WE OFFER FREE TOWING SERVICE WITHIN 5 MILES WITH REPAIR

Call our auto mechanic at (626) 814-4694 in La Puente, California,
to see when you can bring in your vehicle for fast and accurate service.
Call or e-mail today for an estimate on automotive repair.
Hours of Operation:
Monday – Friday: 8 a.m. – 6 p.m.
Saturdays: 8 a.m. – 4 p.m.
ASE Certified
We Accept: